Make It Stand Out
Mounting & laminating isn't just about protecting your original.  They're both a form of finishing an imporant print with a sharp, sleek, and professional touch that speaks volumes when presented on a wall, easel or tradeshow display.  If you're going into an important meeting, and hoping to win over an important client with a presentation, how your materials look play a big part in the first impression you send.  Let us help you transform your presentation materials into something you'll be proud to bring into the meeting room.
---
Mounting Substrates

Using our GBC Orca 1600 mounting machine, we have the ability to mount up to 60" in width by unlimited length.  We stock all types of mounting substrates:
Standard foam board
Gatorboard
Sintra (PVC)
Corrugated plastic
Any substrate up to 1/2″ thick
We use a bright white, premium foam board for our standard mount projects, coated with a hi-tack, permanent adhesive.  You'll find that no one produces a better, more professional looking board than Traverse Repro.
---
Laminating

Traverse Repro's full laminating services are essential in truly finishing a color presentation.  We utilize our GBC Orca 1600 to encapsulate your documents, whether they're trade show products that require a little punch that only laminating can offer, or you're simply looking to protect a cherished original.  We stock 61" gloss, matte and satin based laminates, as well as thicknesses that range from 3-mil to 10-mil laminate.  We also stock a special laminate used specifically to allow dry-erasing, a product that erases cleanly without image ghosting.  With this laminate anyone can turn a mounted spreadsheet print into a professional dry-erase board that can be re-used in sales or construction progress meetings.  We use only a premium laminate product that will hold it's seal over time.
---
ProEdge Finishing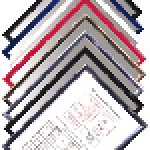 If you're looking for something to protect your foamboard mounted print, you might want to consider have Traverse Repro finish your board with ProEdge.  This is a unique product that provides plastic edging for mounted images and signs, essentially protecting the mounted board with a professional looking frame.  ProEdge can also be used as an inexpensive way to create promotional or product displays.  By mounting three boards and finishing all three boards with the ProEdge product, you can combine the three boards into a cubed 3-D display that will add a nice feature to your showroom or tradeshow booth, without a big expense.  Ask us for more information about ProEdge.