We're happy to have re-opened our showroom this week aat both Traverse Repro and Copy Central. We're back to 8-5 at Traverse Repro, and 9-5 at Copy Central. For the time being, there are a few requirements in place, to comply with Executive Order 2020-91 from Governor Whitmer.
• Facemasks are required in our building, by both employees and customers. If you don't have a facemask, no worries, we have them for you. If you're unwilling to wear a facemask, we're happy to provide curbside delivery for you. Simply call our shop at 231-947-6284, and we'll bring your order out to you.
• In an effort to provide an atmosphere that promotes distancing, we now have an in door and an out door, with an arrow driven flow that carries our customers through the showroom.
• We've implemented acrylic and plexiglass sneeze guards at the counter, to promote safety for everyone at our counter.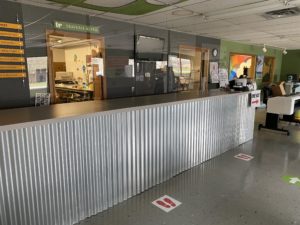 Traverse Repro has been in business since 1953, Copy Central since 1992. As a result, we have a diverse customer base, including many that provide critical essential services. Traverse Repro provides support to businesses that provide health care, food, financial services, infrastructure & construction, critical manufacturing, logistics, and defense. With that in mind, we've been proud to have been there for our customers during these last 2 months. We look forward to now seeing in our building!